Advanced Materials & Technology for the Space Sector
12 – 13 July 2022
Harwell Campus, UK
Venue Information
Harwell Campus will host SpaceAM 2022 in the Rutherford Appleton Laboratory  (RAL) Pickavance Lecture Theatre and Visitor Centre. RAL's pioneering work in space research makes it the perfect setting for the conference.
Rutherford Appleton Laboratory
Harwell Campus
Didcot
OX11 0QX
Visitor Registration & Parking Information
Visitor parking is approx. a 15 minute walk to registration, which will take place at the Science & Technology Facilities Council Main Reception Gate, building number R75,  also known as the Rutherford Appleton Laboratory (RAL), just off Fermi Avenue. There is limited disabled parking at reception which must be booked in advance.
The south gate will be open from 08:30 – 09:30 on both days and 16:30 – 17:00 on day 1, 15:30 – 16:00 on day 2 to allow for faster pedestrian access once parked. Outside these hours, please follow the road back to Fermi Avenue and enter through building R75.
See maps below and please park your car before walking to reception as there are no parking facilities on-site.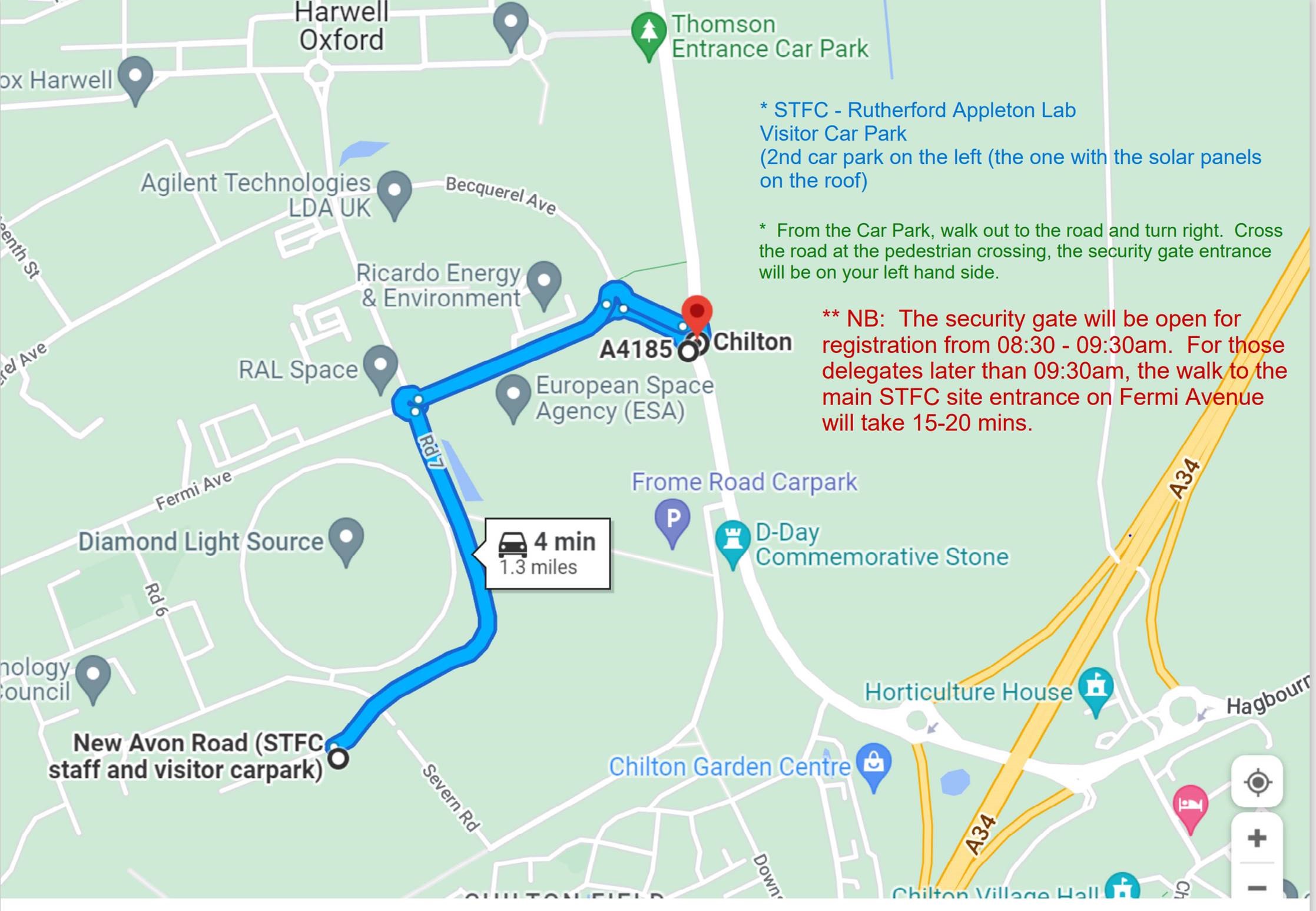 By train
Nearest rail station is Didcot Parkway, served by trains from London Paddington.
Conference Dinner
After the first day of the conference, what better way to continue conversations, catch up with existing contacts and make some new connections? We aim to provide an evening to remember with excellent food and drink, and a few extras to get you mingling and mixing in an informal setting.
We are delighted to announce the conference dinner will take place at the Steventon House Hotel, close to the conference venue.
Tickets can be purchased for £65 plus VAT by contacting the AM sales team or through the tickets page.
Accommodation
Steventon House Hotel, Steventon, approx. 2.8 miles from Harwell Campus, has easy access to the M4, M40 and business parks. The hotel's rich has 23 individually designed, en-suite bedrooms, which include free Wi-Fi and a flat-screen LCD TV with Freeview.
Courtyard by Marriott® Oxford South, Milton, approx. 4 miles from Harwell Campus offers complimentary car parking, spacious guest rooms, with free Wi-Fi, 55" HDTV.
Crown & Horns, East Ilsley, approx. 4.5 miles from Harwell Campus, is a beautiful country pub built in the 1700s with a friendly bar and an intimate restaurant serving freshly cooked food. The hotel is attached to the pub but is a newer building built around a central patio area.
Kingswell Hotel, Harwell Village, approx. 3 miles from Harwell Campus, offers free WiFi access, free on-site parking, bath or a shower, flat-screen TV, an iPod dock and an electric kettle.