A motorsport vehicle consists of a variety of winning formulas. They must be lightweight, durable, and strong against high-speed impact. The same can be said for most consumer vehicles on the market. Which begs the question: are these formulas really about racing, or the significance of their innovation? Read this article to discover the journey of composites in motorsport.
Motorsport: A Long Track Record
The first motor race was launched in France, 1894, with internal-combustion-engine (ICE) automobiles racing from Paris to Rouen. The race hailed many firsts for the era of motorsport. It was the first event to be organised by a newspaper, the Le Petit Journal. It introduced the then world's largest automobile manufacturer to racing, De-Dion Buton, and featured a first-place disqualification. De-Dion Buton's steam-powered automobile was adjudged unworthy as its vehicle required a stoker to provide the engine with continuous power.
The second-place winner, a 3hp petrol Peugeot, won on the grounds for its display of independence and ease of use. These were innovations which the Paris-Rouen race set out to showcase with the ever-growing popularity of automobiles.
Shortly after, a host of races started appearing across the globe. In 1895, the US launched its first automobile competition: a 54-mile race from downtown Chicago to Evanston and back. It was the first race to include electric vehicles. Once again, these races were sponsored by newspapers for the purposes of promotion and sales.
The idea of motorsport was a spectacle to boost newspaper sales as much as it was about automobile innovation. Today, not much can be said to have changed. Races are funded by sponsors, while global broadcasting has meant motorsport has become a consumer product for the general public. The inclusion of large vehicle manufacturers furthermore pushes personal gain and brand awareness ahead of beneficial motoring achievements. Is the rise of composites in motorsport reflecting this history? Or is composite innovation trying to make a point for the betterment of future automobiles?
What are composites? Our helpful overview explains the advanced materials shaping the world of today. CLICK HERE
What Makes a Race Car?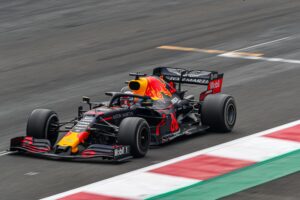 Motorsport has taken many forms since its initial beginnings. Today, it consists of circuit, track, road, and off-road racing. This includes Grand Prix, Speedway racing, Rallycross, and all the vehicle classifications that accompany such events. Each race comes with a different set of specifications cars must meet to be able to compete on the course.
Early car manufacture involved a lot of readily available material like heavy steel frames and sheet metal. Earlier iterations as seen in the 1800s would've sported even more rudimentary wooden frames and chassis.
Composites would come to fruition in the motoring industry around the mid twentieth century. Although fibreglass was invented in 1909, it wouldn't be used commercially by the aerospace and automotive sectors for the next few decades. In 1946, the Stout Motor Car Company made history by creating the first innovative fibreglass body vehicle.
Fibreglass success in the commercial car market was followed by Sheet Moulding Compound (SMC): a Glass Fibre Reinforced Polymer (GFRP) substitute. SMC benefits from high volume production capability and reproducibility. Along with reduced weight, SMC can consolidate multiple parts into one. This formed the first motorsport achievement in 1981 with the McLaren MP4/1 Formula 1 car, and its GFRP structural shell.
Competing with Composites
Carbon fibre is becoming ubiquitous throughout the circuit racing network, utilising the material for non-structural parts. Initially, many engineers were concerned with the abundance of the material being used by McLaren. That was until the 1981 Italian Grand Prix. After a dangerous racing collision, the driver of the McLaren MP4, John Watson, was spared injury thanks to the material's strength.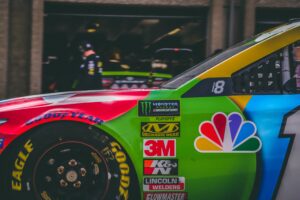 Carbon fibre reinforced polymer (CFRP) offers an enhanced strength to weight ratio. This allows race cars to utilise lower mass and faster speeds around circuits.
Composites provide multiple benefits when it comes to Rallycross. In 2013, a composite customised 600 hp Citroën DS3 competed in the European Rallycross Championship (ERC). It utilised lightweight body panels made from carbon fibre and Kevlar fabrics. These were layered and formed using vacuum infusion. The composite parts reduced the overall weight of the vehicle by up to 89%. Rallycross tires are arguably even more important, with unique compounds enabling multi-terrain traction. Cooper Tires is renowned for its innovation in FIA World Rallycross tires. By applying multiple layers of Kevlar and nylon to tyre sidewalls, strength and flexibility is improved on multi-surface terrain. Vehicle contact and collision is common in the sport, and so stronger sidewalls protect the tyre from wheel collisions.
For NASCAR and stock racing, composites are incorporated into almost every part of the vehicle's infrastructure. Along with bodywork, composites make up air ducts, racing seats, and engine components such as cooling hoses, brake ducts, and battery cases. Heat resistant CFRP shows to help reduce fatigue on engine parts where temperatures can reach 200oC.
The Nuts and Bolts of Composites in Motorsport
There is much debate to be had about the cost and requirements of composite materials. They display positive innovations such as increased strength, durability, and low weight. Yet it can be argued that composite development overshadows larger issues pertaining to the motoring world.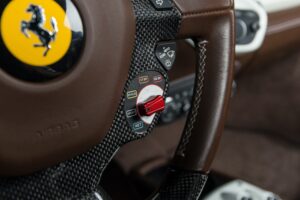 Commercial cars built after 2010, incorporating composite materials, continue to weigh the same as cars manufactured in the 1970s. These older models would have also been built predominantly out of steel. The reason? As consumerism increases, the demand for bigger vehicles is popularised with a focus on luxury, comfort, and technology.
In regards to motorsport, the integration of composites is having the opposite effect. With such lightweight capability, cars such as Formula 1 racers can exceed weight restrictions by being too light. They now, ironically, must require additional ballast such as heavy tungsten to weigh them down. Additionally, the cost of composite manufacture, including sourcing material, moulding, and supply, remains substantially expensive. Especially when compared to readily available and easily constructed metal parts.
Nevertheless, the looming threat of global warming is becoming ever present in everyday life. Automotive manufacture must change to meet net zero goals in reducing CO2 emissions and extending part life of vehicles.
Racing for Safety and Performance
Advanced materials are being incorporated more than ever to achieve these goals. While the price is high, constant innovation in the manufacturing technology is hopeful to reduce this cost over time. And the long lifespan of material such as CFRP is expected to keep cars on the road for longer. In the past, the median life of a car has been 12-13 years. But with the introduction of composites, newer cars are expected to be on the road for at least 16 years. With around 2 million cars scrapped in the UK each year, composites can accommodate the desire for recycling and reuse.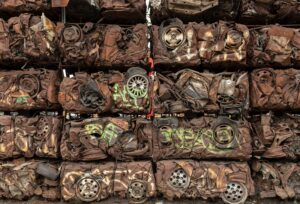 For motorsport, the use of composites can potentially allow for the reusability of parts after impacts or collisions. Flax composite—a material made out of natural plant fibres—has shown to benefit intense GT (grand touring) racing. With innovative body panels that tear on impact rather than shattering, less debris is left on tracks to clean up. Flax also allows for composite parts to be re-stitched and applied for further use.
The Finish Line for Composites in Motorsport?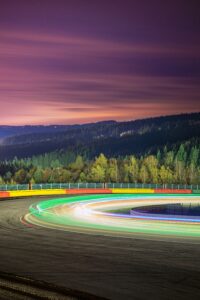 The future of motorsport is certain to change. Advanced Materials are making their way into every part that makes up a racing car. They reduce the weight of body shells and steel engine components. They offer more durable solutions to part manufacture, including material reuse and safety through tensile strength and shatter resistance. Costs can also be alleviated by reducing the dependence on fuel to provide a faster vehicle.
Yet the question remains: Is composite integration in motorsport really about pushing innovation? The FIA published a study on the economic and social impact of motorsport in 2021. It evaluated that the sport grossed an annual €160 billion during COVID-19, as well as provided 1.5 million paid jobs. This greatly exposes composite efforts to maximise vehicle efficiency and innovate on motoring solutions showcased in the consumer vehicle market.
Sports such as Formula 1 have announced a net zero goal by 2030. They are working to eliminate all single-use material and parts and removing the reliance of fossil fuels by 2025. Hansen Motorsport recently unveiled its first electric rallycross competitor, while vying to reduce the overall climate impact from the sport.
For many, motorsport would seem a large culprit for dangerous global emissions. Yet automotive sports of the world are working harder than ever to reduce the necessity for fossil fuels. And sustainability is promoted through vehicle part innovations such as implementing composite materials. So is this about racing, or the innovation? The answer is both.
Advanced Materials Events helps to spread awareness and the potential of sustainable innovation, made possible by composites. Discover MotorsportAM, as well as our full range of annual conferences, on our website. CLICK HERE