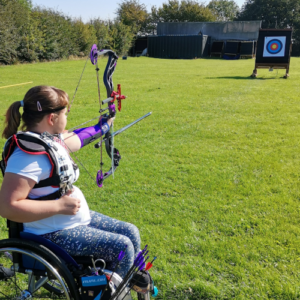 Harriet Little
Sport Enthusiast
Harriet Little is currently studying for a Masters by Research Degree at Oxford Brookes University, looking at the way media portrays disability and disability sport; focusing on the BBC and Channel 4 in particular.
She has always had a passion for sport and, ever since she was little, she wanted to represent her country in one sport or another. From a young age Harriet was part of a swimming team, due to growing up on the Isle of Wight. Her mum thought it was best to know how to swim so she could enjoy the beach in the summer but most importantly be safe in the sea!
However, at the age of 9, Harriet became disabled due to a neurological disorder, and, to this day, no one really knows what it is or why it happened. Due to this illness, Harriet was no longer able to swim competitively. In turn this left her feeling very withdrawn from the world and like giving up. At this point in my 'new' world of being disabled, I was unaware of disabled sport and the Paralympics. Thankfully, after some research she found a charity based at Stoke Mandeville, called Wheelpower. Wheelpower ran weekends where disabled children could try a number of different sports which is where her real story of sport begins.
Still shy and withdrawn, one of the archery coaches asked Harriet to come and give it a go. Harriet says this one sport and one chance changed her life and her way of looking at the world forever. After just one hour of doing archery, Harriet was in love with the sport. At the end of this weekend the coach had told her parents that they needed to get her into an archery club as soon as possible, as he could see her going to future Paralympics.
A long story short, Harriet did join a club. However, her first archery bow was made of metal and in turn was very heavy to hold over a long period of time, made harder due to her disability. Thankfully due to research and composites industry contacts, Harriet found a carbon fibre bow. With the purchase of this bow and the coaching she received, Harriet went on to compete for Archery GB.