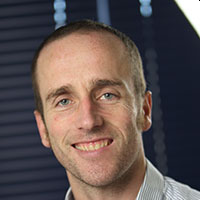 Kelvin Lake
Senior Lecturer
Kelvin graduated from Leeds University in 1999 with a Masters with distinction in Mechanical Engineering. Upon leaving Leeds, Kelvin joined Jaguar Cars as a CAE engineer, specialising in vehicle crashworthiness and vehicle NVH.
After a few years at Jaguar, Kelvin left and went travelling around Australia for a year, working for Ford Racing Australia developing the structural roll cage for their V8 SuperCar. Upon returning to the UK, he continued to work in the Automotive industry for various suppliers, before joining Swansea Institute of Higher Education (now University of Wales Trinity Saint David, UWTSD) in 2007. He is a Senior Lecturer and Programme Manager for the full time Mechanical Engineering portfolio.
Kelvin is an expert in the practical application of Finite Element Analysis and optimisation techniques which he has successfully introduced to various Automotive companies as well as courses and project work at UWTSD.
He completed a PhD in 2021 on "A Design Methodology for the Utilisation of Structural Orthotropic Composite Materials by Micro-Enterprises" which looks at the impact that FEA and optimisation techniques can have on the design process when used by manufacturers using a Kitesurfing board as a case study.