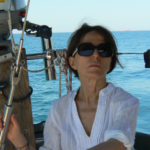 Simonetta Pegorari
Architect, Technical Journalist & Consultant
Simonetta graduated from the Politecnico di Milano University as a Master of Architecture. She is an expert in composite materials, and was among the founders of Assocompositi, the Italian association of composite materials.
For over 18 years she has been active in the publishing industry and is the promoter of the international competition "Carbon Fibre Design Contest", designed to raise awareness of creatives, designers and architects use innovative of carbon fibre, combined with modern technology with additive manufacturing.
As an independent columnist, she has collaborated with many publications, both Italian and foreign and is  currently contributing to the Jec Magazine and Newsletter, Nautech, Progettista Industriale, Macplas, MetsBlog.